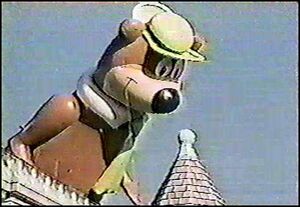 Yogi Bear is a cartoon character from Hanna-Barbera. Since his debut in 1958, he became the first breakout character from that studio, and went on to appear in additional animated television shows, as well as comic books and films. At the height of his popularity, he was even better known than fellow Hanna-Barbera character Huckleberry Hound, who predated him.
Yogi debuted in the Macy's Parade as a balloon in 1983, being the last balloon that year and retired in 1985.
Ad blocker interference detected!
Wikia is a free-to-use site that makes money from advertising. We have a modified experience for viewers using ad blockers

Wikia is not accessible if you've made further modifications. Remove the custom ad blocker rule(s) and the page will load as expected.